SpurrOpen
MOTIVATE 1.0
Motivate 1.0 is a New Year event, divinely inspired by the Holy Spirit and is geared to minister to and help people start 2023 right.

Boldly step through the doors of 2023 with the intention of fulfilling your divine purpose and find inspiration to go after those dreams/goals you have always wanted to achieve.
Register for this exclusive online event via Zoom to be motivated by powerful and dynamic speakers.
Topics:
1. 7 Spiritual Principles for Stepping Into the New Year.
2. Goal Setting Dynamics to Achieving your Dreams
3. The Power of Declaring and Declarative Prayer for 2023

* Each Ticket Costs $2000 JM or pay in USD for persons overseas.
Prizes and Giveaways from our Sponsors.
Zoom Streaming Platform


Monday, January 02, 2023 TIME: 6:00 pm to 8:00 pm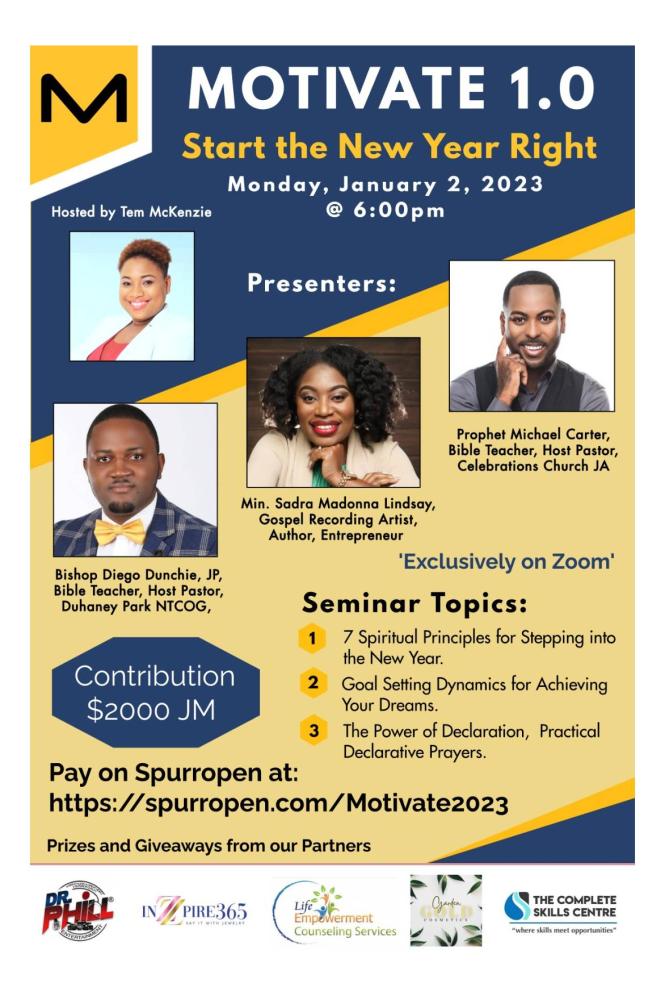 For more information, please contact us at:
876-802-7074
temmckenzie@gmail.com
Share with a friend
Share