SpurrOpen
Pancakes & Prayers
A Child Month Special where children gather to pray and cry out to God about the issues affecting them. Pancakes and Prayers is created by children for children. Their favourite breakfast will be served and the ministry in music, dance, singing, signing, puppetry and sermonettes will be captivating. Don't miss the special presentation from Jamaica Stock Exchange as they too add their prayer to helping our children "Invest in tomorrow.. today!"

Jamaica Stock Exchange Multi-Purpose Centre Kingston


Saturday, May 28, 2022 TIME: 8:00 am to 11:00 am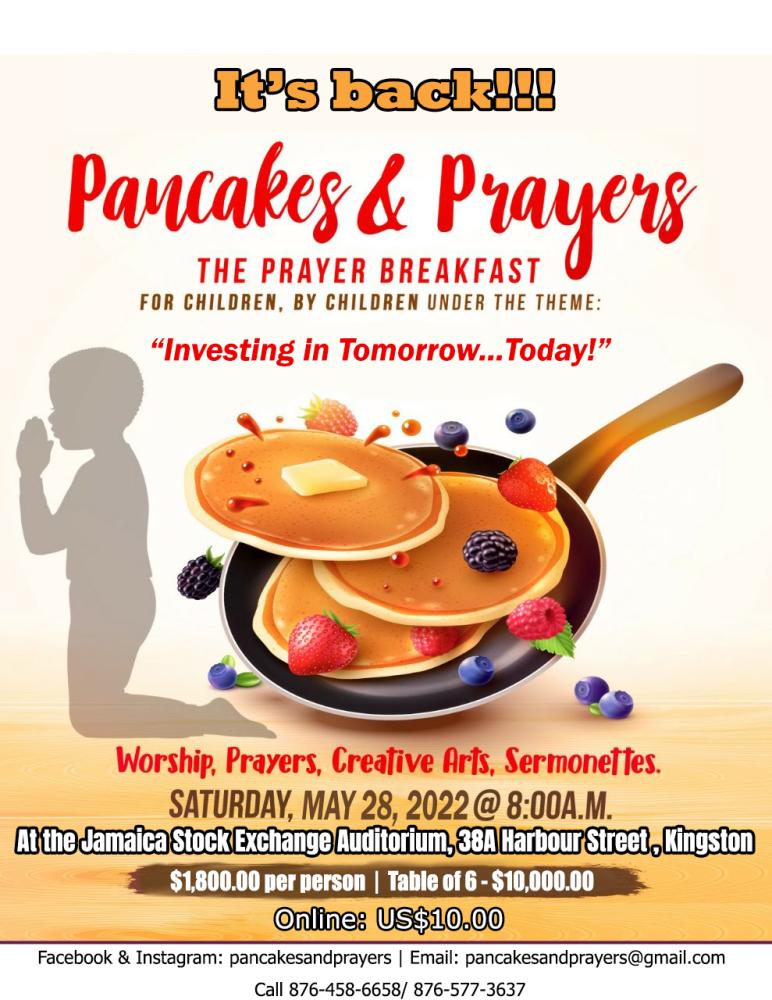 Registration Options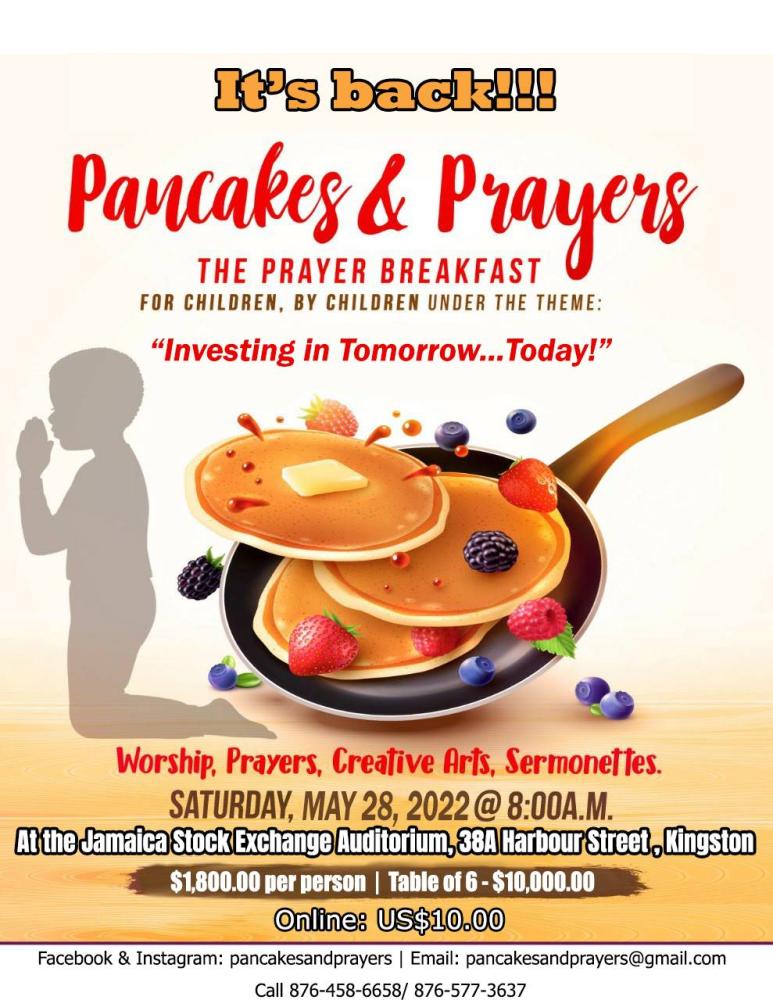 GENERAL ADMISSION VIRTUAL
Admit One
$10.00 USD
Including Fees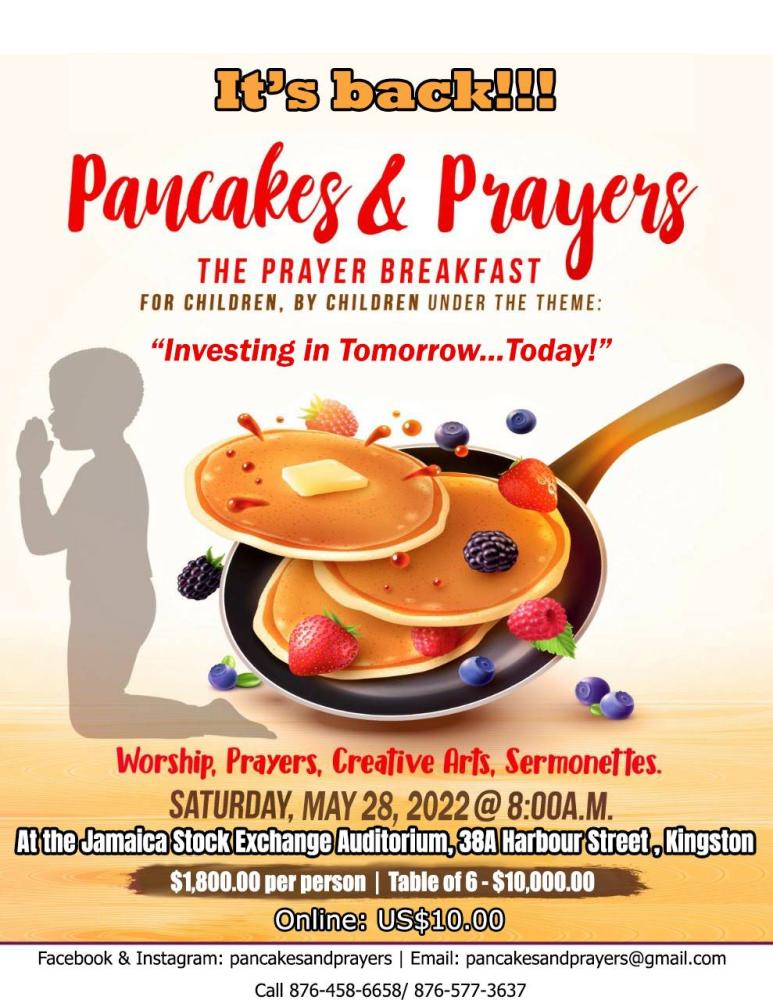 GENERAL ADMISSION IN PERSON
$12.00 USD
Including Fees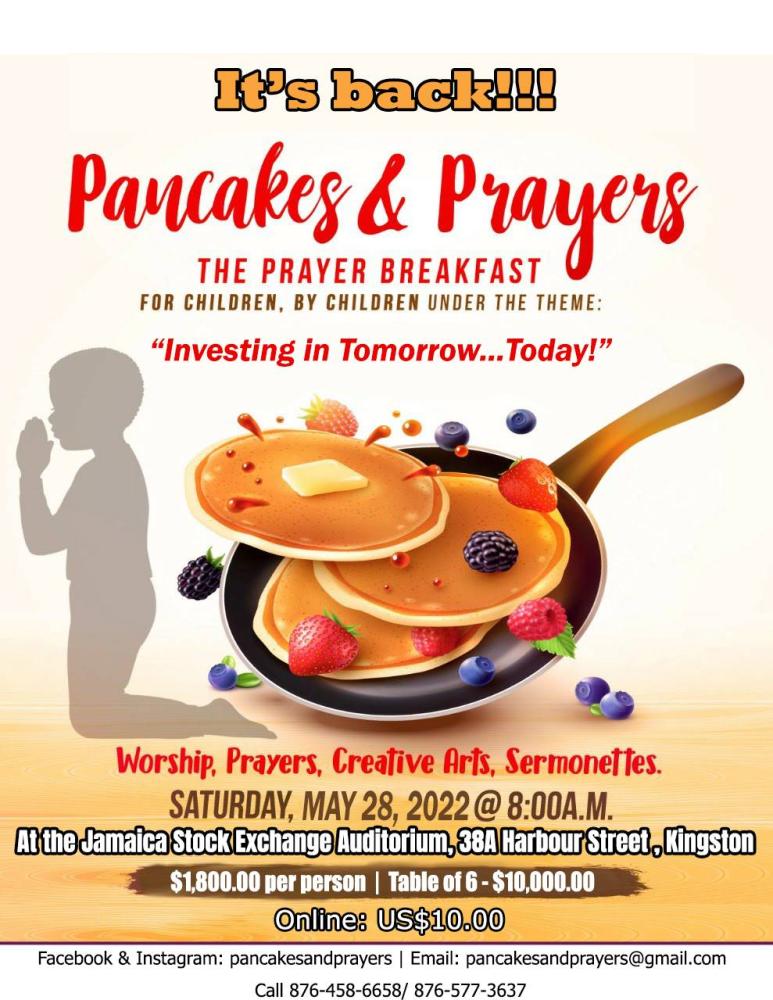 GENERAL ADMISSION IN PERSON
TABLE FOR 6
$70.00 USD
Including Fees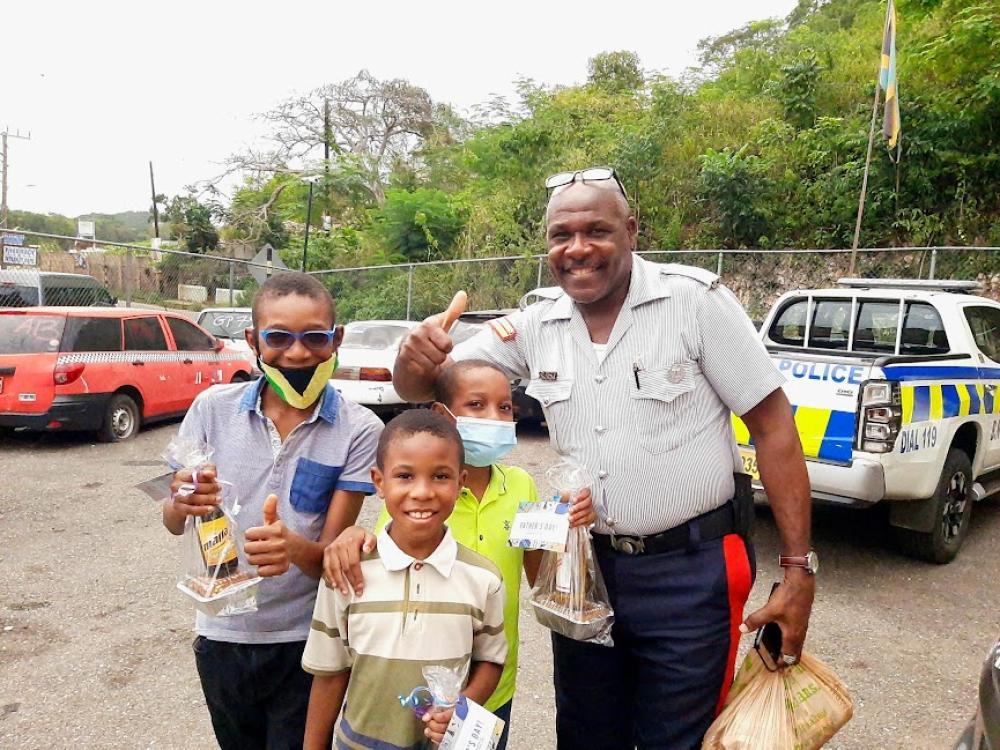 Donation to Father's Day Project
To upcoming Father's Day Project
Any Amount in USD
Including Fees
Pancakes and Prayers
Pancakes and Prayers is a Prayer Breakfast for children by children. It is the brainchild of the entrepreneurial, charitable, praying Wynter Brothers. In 2019 they became very concerned about the many issues in the news surrounding Jamaica and the spate of crime, violence and abuse inflicted on the nation's children; they decided to host a Prayer Breakfast for children by children.

The inaugural event was held in partnership with Whole LIfe College at the Whole Life College Auditorium and what an amazing event it was with children from over 10 different churches gathered to pray in a spectacular display of creative prayers, using arts, prayers and mini-sermons.

Covid19 did not deter the spirit of the boys in 2020 and despite not being able to do the actual breakfast, they took to the charitable side, wanting Child Month to be special and executed a project where they sold "Sweet Treats" which allowed them to give One Hundred and Eight (108) Child Month Treats to children at The Maxfield Park Children's Home. Thanks to those who supported. In 2021 they partnered with Kidz Casters on Gospel Ja. with their Labour Day Project; painting the playground and giving branded items and other gifts to the children at Annie Dawson Children's Home. They also executed a Father's Day Treat where 100 fathers were treated with a gift and card.









For more information, please contact us at:
8763560281
pancakesandprayers@gmail.com
Share with a friend
Share