SpurrOpen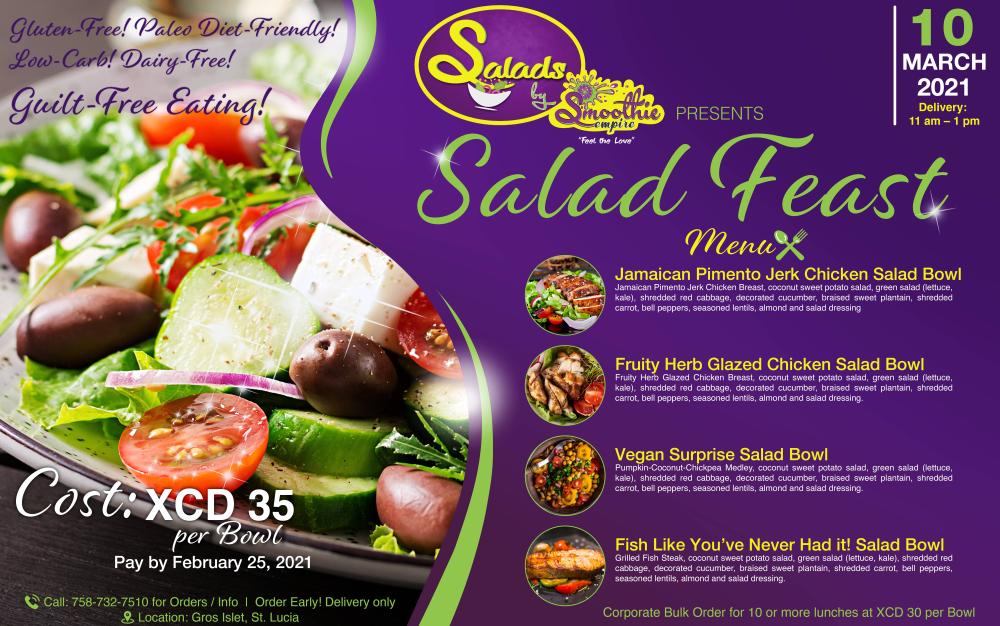 Thanks for visiting our online store! Scroll down to select your meal option and order. **Get each meal at XCD 30 or USD 11 for bulk orders of 10 or more meals - call 758 732 7510 for your special discount code.

Our Event Ethos and Promise
We want to raise up a generation of healthy eaters, influencing clean-eating practices. "Feel the Love" from our delectable salads that feature ingredients that are:

• Fresh from local farmers
• Gluten-free
• Paleo Diet-friendly
• Dairy-free
• Low-Carb

March 10, 2021

Gros Islet, St. Lucia - Cost: USD 12.50 (EC 35) per Salad

Brought to you by Salads by Smoothie Empire - Gros Islet, St. Lucia.
Telephone: 758-732-7510 Email: smoothieempire@gmail.com

Order Early. Delivery Only (from Castries to the North of the Island)

Payment and Delivery Protocol
It is our intention to ensure that you remain safe during the current pandemic. Our highly skilled team is adequately trained in COVID-19 protocols relative to food handling services. In order to ensure your continuous safety, the following methods have been implemented:

1. Cashless Orders - Complete your order via credit card / visa debit cards by selecting your menu item of choice

2. Payment for bulk purchases made by companies - we will reach out to you via email with our wire transfer details

3. Delivery - delivery will be done during the hours of 11 am and 1 pm AST. The delivery team will observe the protocols in place and ensure that there is minimal to no contact with customers as payments would have been settled beforehand; the delivery team sanitizes frequently and wears the required personal protective gears (mask and face-shields).