Available Booths
Request a booth for Christmas Basket Fundraiser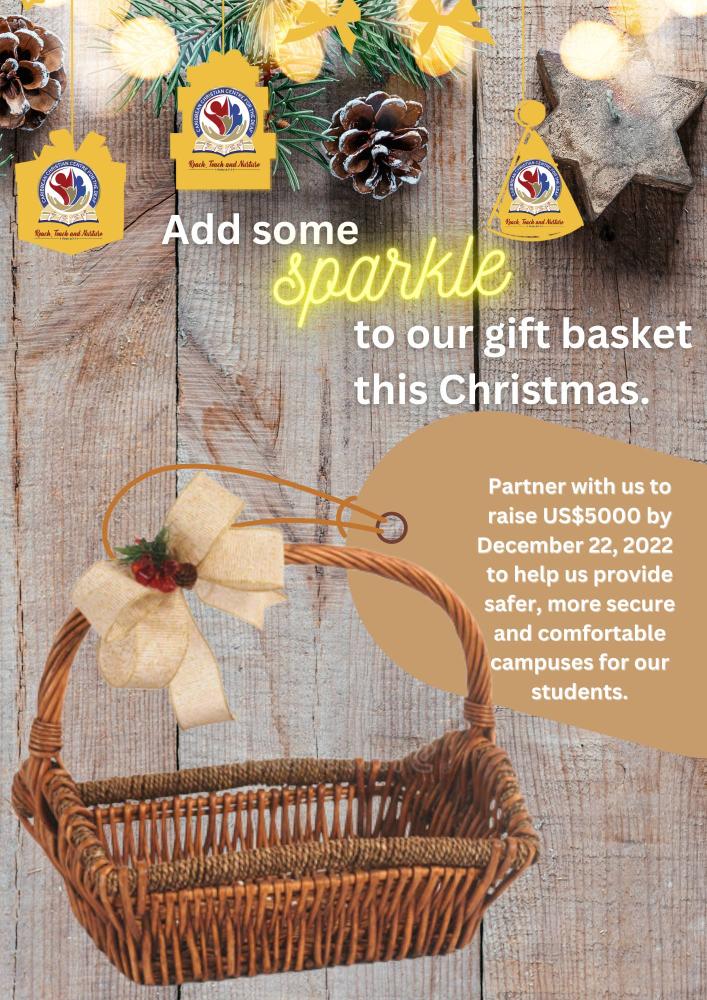 Christmas Basket Fundraiser
Will you be a champion for the Caribbean Christian Centre for the Deaf (CCCD)? Every dollar that we raise together helps us fulfill our mission. Our organization depends on the help of people like you!

Our mission seeks to enable full language access (Jamaican Sign Language [JSL] and written English) among the Deaf and Hard of Hearing in Jamaica and affirmation in an inclusive community whereby they are empowered to know the Lord, appreciate diversity, and understand the functions of the world.

This year, we have a fundraising goal of US$5000. All donations collected during this fundraiser will go toward providing safer, more secure and comfortable campuses for our students.

All our campus facilities have been crying out for some tender loving care. Many of our buildings are in dire need of repairs. There is depreciation and disrepair in most of our buildings, furniture, fixtures and appliances:

Termite infestation – roof/ceilings/ doors, cupboards
Old furniture
Old bathroom fixtures
Old kitchen facilities
Plumbing
Old electrical wiring
Rat bat infestation
Old kitchen equipment
Old termite infested classroom fixtures

Improving and upgrading our facilities would mean better facilities for our students and staff. The ultimate goal is to continue reaching, teaching, and nurturing the Deaf youth for many more years to come, as we help them transition and integrate into the wider society.

We want you to be a peer-to-peer fundraiser. Peer-to-peer fundraisers help us continue to engage repeat and first time donors by encouraging their network to participate in nonprofit giving. By fundraising with CCCD, you will extend our presence in the community and help us fulfill our mission.

As a peer-to-peer fundraiser for CCCD you will:

1. Use new and existing connections to help reach your fundraising goals.
2. Share our mission with your network.
3. Use your passion for community participation to make it a priority for others.

Thank you!
Hosted By: Caribbean Christian Centre for the Deaf