Available Booths
Request a booth for Laugh It Off 2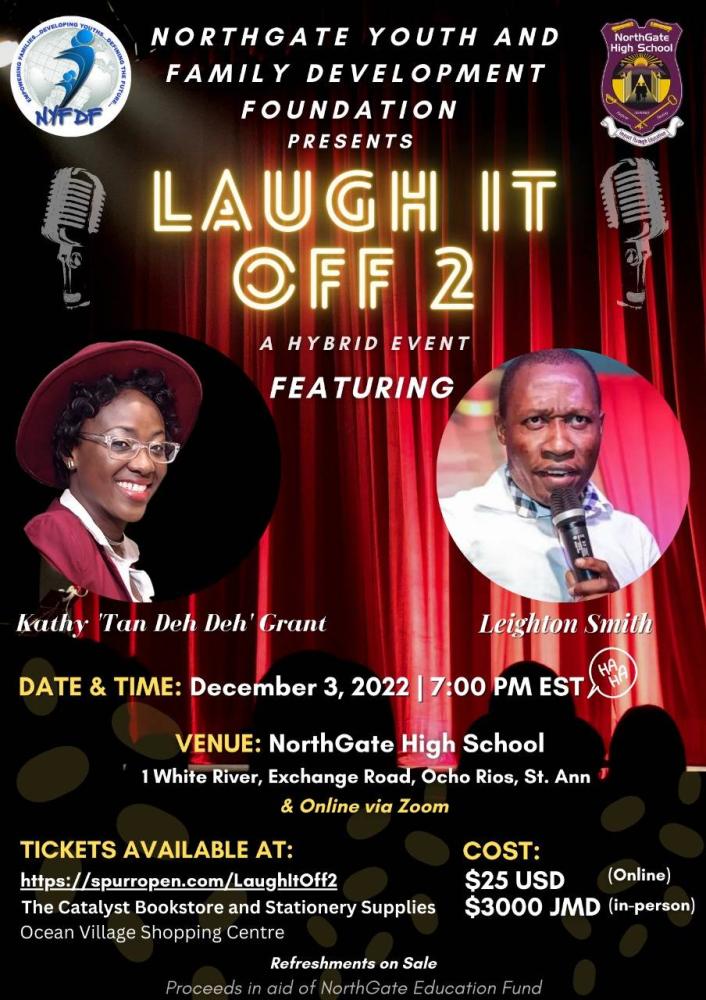 Laugh It Off 2
Laugh It Off... just because... is a hilarious 90 minute stand-up comedy show brought to you by Northgate Youth and Family Development Foundation that features live performances from two of Jamaica's best comedians: Kathy "Tan Deh Deh" Grant & Leighton Smith.

As laughter is one of the best stress relief medicine, this event is designed to give families, friends, patrons and even the comedians themselves an opportunity to LAUGH in spite of… and just because… The belly full of laughter provided will trigger positive mental changes that help to relax the mind. Our show will be 100% appropriate for the entire family.

Limited tickets available for in person attendants for JMD3,000.00 at The Catalyst Bookstore and Stationery Supplies, Ocean Village Shopping Centre, Ocho Rios.

ALL PROCEEDS IN AID OF THE NORTHGATE EDUCATION FUND.
Hosted By: Northgate Youth and Family Development Foundation
---
NorthGate High School and Online via Zoom
St Ann JAMAICA
Saturday, December 03, 2022 TIME: 7:00 pm