Available Booths
Request a booth for ICHS Symphony Orchestra "In Concert"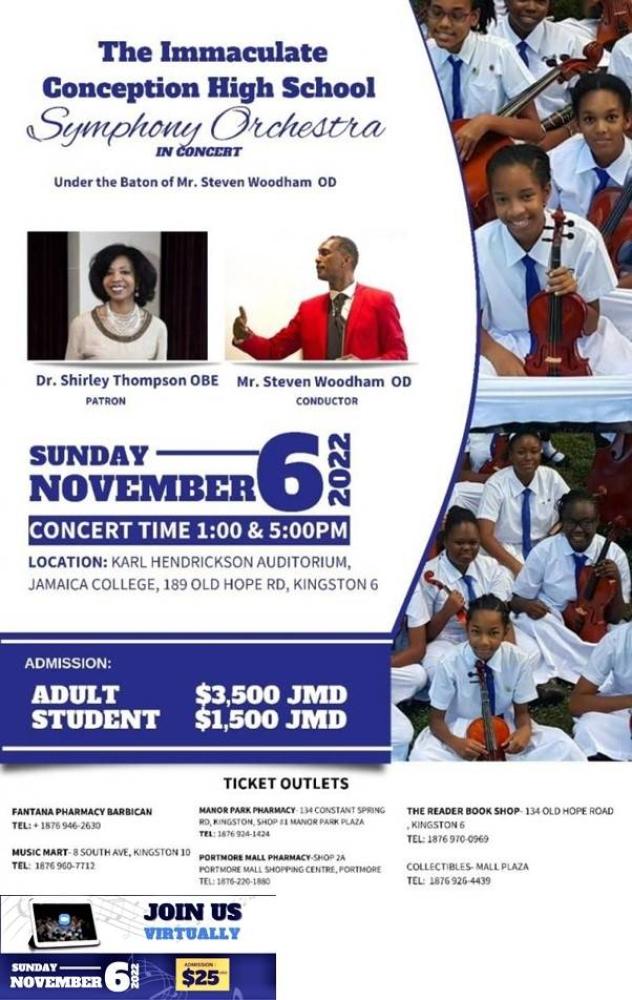 ICHS Symphony Orchestra "In Concert"
The Graduating Class of '72 in conjunction with the Alumnae Association will be staging two (2) fundraising concerts of the Immaculate Conception High School (ICHS) Symphony Orchestra under the patronage of world-renowned composer and violinist Dr. Shirley Thompson OBE, and the baton of Mr. Steven Woodham, OD, on Sunday, 6 November 2022 at 1:00 pm and 5:00 pm at the Karl Hendrickson Auditorium, Jamaica College, Hope Rd, Kingston. The 1pm concert is being promoted for students and as a rare family event. The 5pm concert is being promoted as a" Casually elegant" affair.

Additional Information!

Virtual tickets purchased can be used on 6th November and up until a further 45 days afterwards! You can watch at your leisure up until December 21st.

You will receive two notifications after purchasing your E-ticket. One mid-October and the 2nd during the week before the concert as reminders of the concert. Purchase your E-ticket now for full service!
Hosted By: Immaculate Conception High School Alumnae Association
---
The Karl Hendrickson Auditorium 1:00 pm and Virtual
Kingston JAMAICA
Sunday, November 06, 2022 TIME: 1:00 pm
---
The Karl Hendrickson Auditorium 5:00 pm and Virtual
Kingston JAMAICA
Sunday, November 06, 2022 TIME: 5:00 pm