SpurrOpen
Swallowfield Chapel 52nd Anniversary & Long Service Awards Dinner
Swallowfield Chapel hosts its 52nd Anniversary & Long Service Awards Fundraising Dinner on Sunday, October 16, 2022, at 6pm at the Jamaica Pegasus Hotel in Kingston, Jamaica. Tickets are available for sale at the Swallowfield Chapel Church office and after service in the foyer at #9 each Sunday leading up to the event.

In-person tickets are priced at J$5,000 each for adults and J$3,500 each for children 3-12 years old. Live Stream online viewing via Zoom is US$30, Fees Included.
Jamaica Pegasus Hotel Kingston


Sunday, October 16, 2022 TIME: 6:00 pm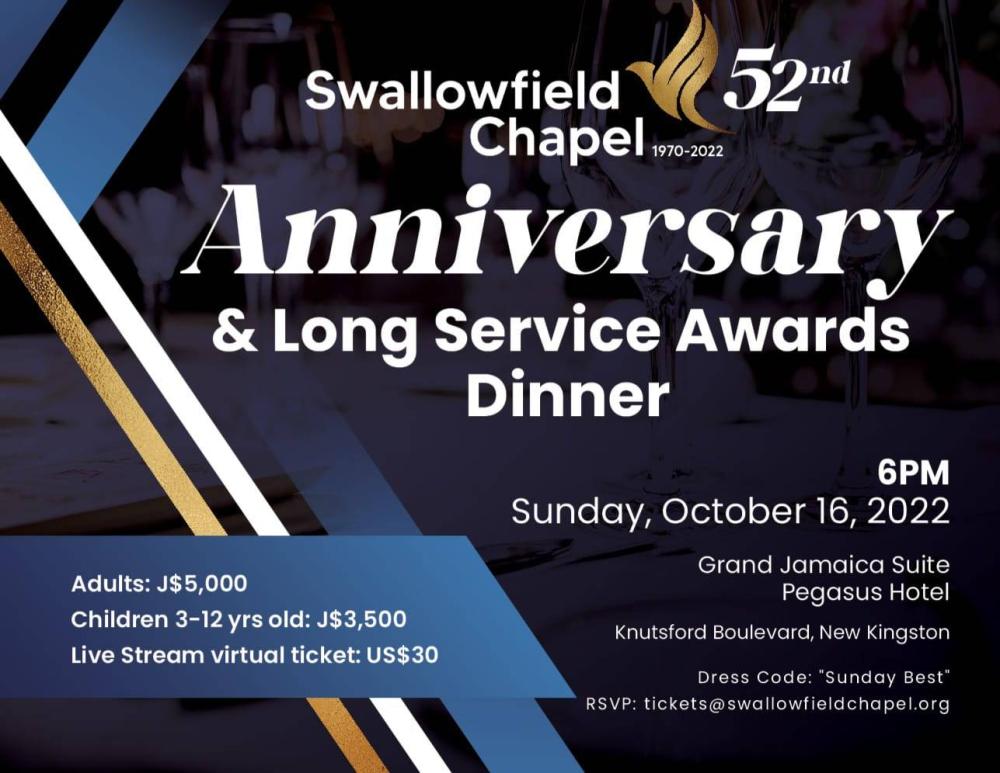 Registration Options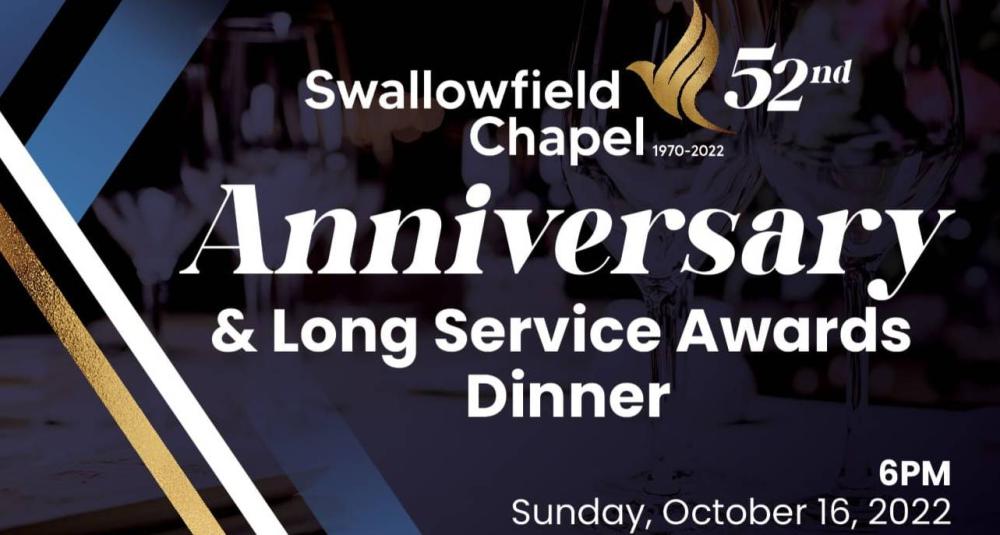 Live Stream Viewing
Virtual via Zoom
$30.00 USD
Including Fees
Swallowfield Chapel
Swallowfield Chapel is a multi-ethnic community church located at 5-9 Swallowfield Road in Kingston. The history of the church dates back to 1937 when a Chinese Christian Fellowship was founded by returning missionary from China, Mrs. Helen Gallimore and her husband Rev. Herbert Gallimore. Swallowfield Chapel emerged from this fellowship and was officially inaugurated during a Service of Dedication on October 15, 1970 at #5 Swallowfield Road. The church has since expanded to include #9 and subsequently #7 Swallowfield Road. Swallowfield Chapel's vision is to be and make disciples of our Lord Jesus Christ. The church's mission is to be a community of believers in the Lord Jesus Christ growing in loving relationship with God and each other, and in loving service making disciples of all nations. The church has effectively served the spiritual and physical needs of the Swallowfield Community over the years and continues to do so. Lead Pastor David Henry, D. Min. and other serving elders of the church grew up in the Swallowfield community. This year - 2022 - Swallowfield Chapel marks its 52nd Anniversary under the theme "Living the Legacy, Celebrating the Journey."

For more information, please contact us at:
876-920-6317
info@swallowfieldchapel.org
Share with a friend
Share